Lawrenceburg Sportsbooks
Sports betting in Indiana may soon be coming to five cities along the Ohio River and chief amongst them is Lawrenceburg. This city is home to the Hollywood Casino Lawrenceburg, a riverboat casino that is expected to be home to Lawrenceburg Sportsbooks within the next year or so.
Indiana sports betting was officially legalized by Governor Eric Holcomb when he signed it into law. You may be wondering why Lawrenceburg Sportsbooks can't just open automatically, now that there are no federal or state prohibitions in the way, but they've got to wait for the say-so from the Indiana Gaming Commission now. The Commission itself also has to get itself prepared to start taking in applications from all over the state so it will only be a matter of time before they get to applications from Lawrenceburg.
In order to bring you all of the information you need about sportsbooks in Lawrenceburg, we've decided to put together this page. Here you'll find all of the relevant legal information about sports betting in Indiana. We've also included information on the best sportsbooks in Lawrenceburg when they open, and what you can expect to find there. We'll be updating this page regularly, as new developments occur. Continue to check in to this Lawrenceburg sportsbooks page for all of the latest on sports betting in Indiana.
Best Indiana Sports Betting Sites - 100% Trusted + Safe
| | | | | |
| --- | --- | --- | --- | --- |
| | | 50% Up To $250 | VISA + Wire Transfer | |
| | | 50% Up To $1,000 | VISA, Bitcoin, Cash Wire | |
| | | 50% New Member Bonus! | VISA, Bitcoin | |
| | | 50% Up To $1,000 | Bitcoin, Wire Xfer, VISA | |
| | | 100% Up To $300 | VISA, Bitcoin | |
| | | 50% Up To $520 | Western Union, VISA | |
| | | 100% Up To $500 | VISA, Bitcoin, Checks | |
Is Sports Betting Currently Legal In Lawrenceburg, Indiana?
Yes, sports betting is legal in Lawrenceburg Indiana. After a 2018 decision to by the US Supreme Court to lift the federal ban on sports betting, lawmakers in Indiana got to work, holding a special session that summer just to study the topic. Almost a year later, a solid framework was built and Governor Eric Holcomb signed the bill on the last day the legislature was in session. The bill gives gaming venues in the state such as racetracks, off-track betting facilities, and casinos the right to apply for sportsbooks through the Indiana Gaming Commission. However, none of these types of establishments has been approved by the Commission quite yet. The bill also allows approved gambling institutions to partner with an online sportsbook operator to provide statewide mobile betting.
That last part of the bill raises some questions about the use of online offshore sportsbooks. Those types of online betting sites have been available on mobile devices for some time now and they are not held to the legal authority of the state or the federal government. Online casino gambling was not approved in the bill, but online sportsbooks may be held in a different light now. Any language concerning the use of offshore books was also still kept out of any state law. For those that don't want to wait for Lawrenceburg sportsbooks to open, going this alternative route is seen by many as a safe option. These sites will accept any members from the state of Indiana and only report to the gaming authorities in their home country.
How Old Do I Have To Be To Bet On Sports In Lawrenceburg
As Lawrenceburg Sportsbooks begin to open, we expect them to follow the state law and only permit those that are 21 years old or older to bet on sports. Lawmakers in Indiana chose to go the route of most states and keep the activity reserved for those that are old enough to enter the state's casinos. If you choose to use online offshore sportsbooks you will have to abide by this age as well, no matter what age that site says it will accept. Indiana horse racing betting is the next best option for the younger crowd looking to put money down on sports to take as the legal age to do so is only 18 years old or older.
The Best Sportsbooks In Lawrenceburg
The best sportsbooks in Lawrenceburg are not yet open but will be soon. When they open, expect to find incredible service, impeccable betting odds, and a plethora of wager types that will make even the most discriminating bettors happy. But one could argue that the best sportsbooks in Lawrenceburg might just be online, offshore sportsbooks, rather than land-based venues.
The great thing about online, offshore sportsbooks is that you don't have to choose just one. You can have multiple accounts. You can even have an account at land-based Lawrenceburg sportsbooks in addition to accounts with online offshore books. With so many options, it can be kind of hard to identify which are the best sportsbooks in Lawrenceburg, IN. But then again, who says you have to choose?
Below you'll find a review of the Hollywood Casino Lawrenceburg, the home to any potential land-based sportsbooks in Lawrenceburg. This venue is world-class, and any books operated there would be some of the best in the business for sports betting in Indiana. As we learn more about potential timelines and betting options, we'll be sure to update this review. For now, enjoy what we know about Lawrenceburg sportsbooks.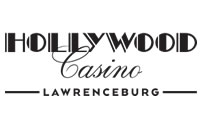 Hollywood Casino Lawrenceburg

Address:

777 Hollywood Blvd, Lawrenceburg, IN 47025

Phone:

(888) 274-6797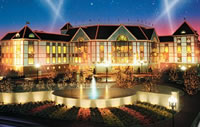 Indiana's casinos are almost all riverboat casinos. But that doesn't mean you aren't getting the height of luxury and opulence, especially when you're playing at the Hollywood Casino Lawrenceburg. This casino has everything you could ever want, conveniently located on the scenic Ohio River. There are two whole floors dedicated to nothing but slot machines and video poker, with over 1,400 of the best gaming terminals around. You can choose between traditional classic reels or progressive jackpots.
There are 19 live poker tables ready to take you for the thrill of your life at any time of the day or night. Spend some time getting your blood pumping at any one of the dozens of table games aboard the Hollywood Casino in Lawrenceburg. Gaming here can accommodate over 9,000 patrons, but the best part is that you'll never feel crowded. The beauty of a riverboat casino is its intimacy.
The incredible gaming is second only to the fantastic service you'll find at the Hollywood Casino Lawrenceburg. The friendly dealers and trained personnel are willing and able to assist you with anything. The Hollywood Casino Lawrenceburg Hotel was just recently renovated and is conveniently located across the street from the casino's docking station. You'll be able to relax in style when you stay here.
Lawrenceburg sportsbooks would be located in the casino itself, but you would be able to enjoy all of the hotel resort perks as a patron of the book. When the sportsbooks in Lawrenceburg do open, we believe you'll have access to wagering opportunities on all professional, collegiate and international events. Moneylines, spreads, totals and more will be available when you visit Hollywood Casino Lawrenceburg.