Bet On Having Legal Indiana Sports Betting This Year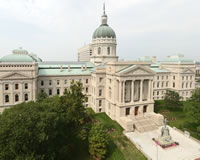 Senate Bill 552, the one which sets to authorize legal sports betting in Indiana, was reviewed by the Public Policy Committee on Wednesday. Senator Mark Messmer (R-Jasper) authored the bill that is headlining the legislative sessions.
The bill's details look to allow online wagering options as well as authorize the casinos and racino locations to utilize a land-based system.
"It's been called the kitchen sink bill because it has everything in it pertaining to gaming," Indiana gaming analyst Ed Feigenbaum said.
Two other bills, filed in both the House and Senate, are also being considered but priority lays with SB 552.
What Is In The Indiana Sports Betting Bill?
Indiana gamblers would be able to create an online account in which they could wager on sports from anywhere within the state of Indiana. Federal law prevents the ability to make bets from across state lines.
They would first have to register at a racino or casino in person before making their online account. This is different in other states, like New Jersey, where players do not need to sign up in person.
Aside from the online platform, IND SB 552 will allow licenses at riverboats, casinos, and racinos, including satellite facilities. These licenses allow for live table games and legal sports betting, only with the exception of high school contests and e-sports.
Other states have prevented the ability to wager on an in-state college sports' program, but we have not seen any wording about this in Indiana's bill.
If left unchanged, the bill would also allow riverboats to move ashore and remove the limit on gaming companies owning only two casinos and two racinos.
Last Year's Attempt At Sports Betting Legalization
Two bills went to the Public Policy Committee last year but neither saw advancement into law. They both discussed similar aspects of the 2019 bill, which makes it appear Indiana legislators are ready to move it forward.
Representative Earl Harris Jr. (D-East Chicago), agrees, "If I were a betting man, I'd bet we'll have sports wagering in Indiana. I wouldn't be surprised if it happens this year."
Last year, the state wasn't prepared to handle the major discussion that would have brought the industry to the Midwest. But this year, nearly every surrounding state has introduced some legislation to permit single-game wagering. Indiana is now sure to make it a priority as the deadline for advancing legislation out of committees is February 21st for the Senate.
Senate Majority Floor Leader, Mark Messmer (R-Jasper) understands the decisive action needed from his lawmakers. "The majority of the states are moving forward with it," Messmer said, "If we don't, our citizens of Indiana are just going to neighboring states… and dozens of other states that have adopted or will adopt"
What's Needs To Happen For Indiana Sports Betting?
Messemer is not only the Floor Leader but is also on the Public Policy Committee, where SB 552 is being reviewed. This creates the belief that some form of this bill for sports betting in Indiana will be passed into law.
"There will be a lot of testimony and a lot of questions because they are relatively complicated bills," Senator Jon Ford (R-Terre Haute) explained. Ford represents the district where the new casino would be licensed in the bills' details.
The next two weeks sets the timeframe of how much deliberation can be had on the two bills in the Senate. But Ford isn't worried, saying "I think they'll both leave the Senate here within the next two weeks."
Best Indiana Sports Betting Sites - 100% Trusted + Safe
| | | | | |
| --- | --- | --- | --- | --- |
| | | 50% Up To $250 | VISA + Wire Transfer | |
| | | 50% Up To $1,000 | VISA, Bitcoin, Cash Wire | |
| | | 50% New Member Bonus! | VISA, Bitcoin | |
| | | 50% Up To $1,000 | Bitcoin, Wire Xfer, VISA | |
| | | 100% Up To $300 | VISA, Bitcoin | |
| | | 50% Up To $520 | Western Union, VISA | |
| | | 100% Up To $500 | VISA, Bitcoin, Checks | |