How To Bet On Notre Dame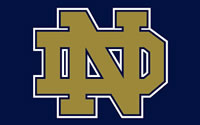 Notre Dame's football program dates back to 1887, and in the intervening years, it has become one of the sport's premier institutions. Having won almost two dozen NCAA national championships and produced multiple Heisman Trophy winners, over 50 College Football Hall-of-Famers and hundreds of NFL draftees, the Fighting Irish are among college football's most storied and successful teams. With accolades and achievements like those, it's really no wonder that members of the team's massive fanbase have questions about how to bet on Notre Dame. For that reason, we came up with this guide so that fans of the Irish can be confident in the best way to go about legally betting on Notre Dame.
As you might imagine, the Fighting Irish can just about always be counted on as a solid bet to do well deep into the NCAA football season. Those winning ways go back to the early 20th century during the tenure of famed head coach Knute Rockne, who laid the Irishes' foundation for excellence by leading Notre Dame to a record of 105 wins and just 12 losses. Though Notre Dame competes as one of four independent Division 1 teams, it usually schedules five Atlantic Coast Conference teams every year and is the only Independent school to have been a participant in the Bowl Championship Series.
Now that the BCS has been replaced by the College Football Playoffs, Notre Dame has to be on the radar of any serious sports betting enthusiast, especially as the season develops. In the following sections, we will discuss at more length how to safely, securely and – most importantly – legally bet on Notre Dame using the top offshore online sportsbooks we recommend, among them Bovada, SportsBetting, BetOnline and 5Dimes.
Types Of Wagers You Can Place On Notre Dame
All our recommended overseas-based sportsbooks are going to offer odds on Notre Dame in most of the team's matchups this year. That's to be expected, considering the following the Irish enjoy (not to mention their NCAA-exclusive contract with NBC to televise every home game) from legions of devoted fans. However, there's more to consider when it comes to placing bets than just picking winners or losers, and that's where our guide comes in: we'll give you the lowdown on the different types of wagers you can place on Notre Dame at the leading online sportsbooks and how to make sure you're making the most of your bet with sports betting in Indiana.
Notre Dame Spread
Betting the point spread is perhaps one of the more popular kinds of wagers available at the top offshore sportsbooks. In this method of wagering, the oddsmaker gives a handicap or (head start) to the underdog in a given matchup, which enables a team that's less likely to win to have a cushion of a certain number of points. If the underdog wins the game over the favorite, then there is no need to hold to the point spread.
However, a bet on the underdog is considered a winning bet even if that team loses, so long as the loss isn't by more than the stipulated handicap. On the other hand, the favorite in the matchup will have to win by a margin greater than the amount of the handicap in order for a bet on that team to be considered a winning bet. For example, if Notre Dame is a +14 underdog against longtime rival Michigan, then the Wolverines must defeat the Fighting Irish by at least 14 points for bets on them to result in a payout.
Betting Notre Dame Straight Up
In all cases, the amount paid to winners of successful bets it determined by the so-called moneyline, which can be said to be the basis of all betting odds. Based on increments of $100 risked or won, the moneyline is also a kind of bet in and of itself, and gamblers will often bet on Notre Dame "straight up," as this method of wagering is also known. A winning bet is recognized when the team the bettor picks wins outright, with no consideration given to the difference in the final score of the teams in the contest.
For example, if Notre Dame is expected to do well in a game against Navy, the Irish might be given moneyline odds of -300, meaning that a bet of $300 will only result in $100 of profit. Of course, this takes into account the much higher likelihood of Notre Dame winning, so some bettors prefer to take a "sure thing" over a bigger payday as is possible with picking the underdog. In that case, if Navy has a significant disadvantage against Notre Dame, the Midshipmen might be given odds of +450, meaning that a winning bet on Army will pay out $450 extra for every $100 risked.
Notre Dame Over/Under Points
Betting the total, also referred to as picking "over/unders," is a method of betting that doesn't look at the actual outcome of a sporting event, but rather on the combined total score of both participants at the end of the game. Bettors choose whether to bet that the total points scored in the game will be greater than (over) or less than (under) what the oddsmakers think both teams will score.
An example might be that the combined score of a hypothetical contest between Notre Dame and Temple University was only 21. If the bookmaker figured the game would involve 42 points scored altogether and you bet "under," then you'll win based on the listed moneyline for the event. If you bet "over," then you'll lose. Unlike the other two betting methods we've discussed thus far, betting on the over/under can also result in a "push," which occurs when the final score ends up being exactly what the bookies predicted, and in that case, all bettors' money is refunded.
Mobile Notre Dame Betting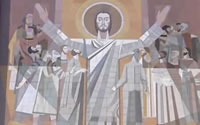 Betting on Notre Dame is something fans have been doing by the thousands for many years, but the recent innovation of betting using a mobile device makes this easier and more accessible to a wider audience than ever before. All the premier legal sportsbooks we recommend have embraced this new technology – and the trend of more and more integration of smartphones, tablets and other mobile devices into our everyday lives – to introduce their class-leading mobile betting apps. The experience and user interface is similar-to-identical when compared to using the desktop version of any of the best online sportsbooks, and their apps are free to download.
These legal sports betting apps are available only through the individual websites that created them. Though the download process is a little more involved, it's actually a net positive in terms of the integrity of the apps themselves, as the developers don't have to be constrained by the requirements of building apps using Android or iOS architecture. Every website has a different installation procedure, so read the appropriate section carefully before you start the process. Once mobile sports wagering apps are launched in Indiana they will have their own download process. There is no limit to the number of mobile betting apps you can download, so try them all and see which one you like best for betting on Notre Dame this season.
Live In-game Betting On Notre Dame
Another exciting innovation in the world of sports gambling to come along in recent years is the phenomenon of live wagering (also known as in-game betting). Like mobile sports betting, live in-game betting is only possible thanks to advancements in smartphone and mobile technology and the proliferation of reliable high-speed wireless internet. In essence, live betting enablers sports fans to bet on Notre Dame with constantly updated odds as the game in question is taking place. Complex algorithms devised by the online sportsbook developers calculate new odds and even altogether new betting lines to better reflect wagering opportunities based on the action on the field.
All the top online sportsbooks we recommend, from Bovada to Sportsbetting, have made moves into this emerging sector and offer live betting as an option for their users. Fans of the Fighting Irish should avail themselves of the opportunity to try out this more involved kind of sports betting, but be aware that it requires a quick "trigger-finger," so to say. Don't get caught napping when the odds change and your winnings could be even bigger.
Other Ways To Bet On Notre Dame
As we've shown, there are many ways for online betting on Notre Dame – so many, in fact, that it can be a little overwhelming for someone new to the hobby. However, there are just a few more betting methods that we'd like to discuss before we move on. Among those other ways to bet on Notre Dame include wagering on futures (basically, betting on the outcome of an event far in the future – say, for example, whether the Irish will play for an Atlantic Coast Conference title). This kind of betting involves some of the most strategic thinking of any wagering type, and is, in practice, the exact opposite of live betting, which favors minute-to-minute reaction over long-term thinking. However, the payout on a successful futures bet can be massive indeed. Bovada and Sportsbetting have got plenty of futures lines available to their users, so if you think the Irish have a good shot this year at playing in a bowl game, it's probably worth your while to lock in a bet now.
Best Sites For Wagering On Notre Dame
If you haven't figured out how to bet on Notre Dame or where to do it yet, then scan the above sections until you come across websites like Bovada, SportsBetting, BetOnline and 5Dimes. These offshore sportsbooks are absolutely the best legal means of betting on Notre Dame online. Not only are our recommended sportsbooks reliable and secure when it comes to handling your sensitive personal and financial information, but they are also licensed and regulated by their home nations' gaming authorities so they operate without interference from the US legal system or its prohibitions on domestic-based sports betting sites. Additionally, all these sportsbooks have got a wide variety of NCAA college football betting lines available – their bookmakers know that football is practically a secular religion for American sports fans, even among for supporters of the largely Catholic Notre Dame. Once online sports betting platforms launch in Indiana we are confident that they will make our list as well.
Bovada Odds On Notre Dame
The world's top legal sports betting site is none other than Bovada. Based in Latvia in eastern Europe, Bovada is the crème of the crop when it comes to internet sportsbooks. It is the best-funded and easiest to use, and it is by far among the best-equipped to handle US bettors. Notre Dame fans are no exception to this rule, and odds on the Fighting Irish are regularly available in Bovada's NCAA football section, so be sure to check back frequently for updated odds throughout Notre Dame's season. Another reason Bovada is well-loved by those interested in betting on Notre Dame is no doubt due to the generous $250 new sign-on bonus and other complimentary bonuses for subsequent deposits.
SportsBetting Odds On Notre Dame

Antiguan-based SportsBetting's name says it all: this legal online site is all about betting on sports, all the time. Nowadays, that philosophy can be lived out anywhere thanks to live-betting, mobile sports betting apps and other technological innovations of which SportsBetting is one of the industry's key proponents. SportsBetting isn't beholden to US legal prohibitions on American-based sports gambling sites and readily fills that niche by offering its services to Notre Dame fans and other college football gambling enthusiasts. This Caribbean-based website boasts a match of 50 percent on deposits up to $1,000 as well as other complimentary offers aimed at giving users plenty of chances to fill up their bankroll on the house.
Best Indiana Sports Betting Sites - 100% Trusted + Safe
| | | | | |
| --- | --- | --- | --- | --- |
| | | 50% Up To $250 | VISA + Wire Transfer | |
| | | 50% Up To $1,000 | VISA, Bitcoin, Cash Wire | |
| | | 50% New Member Bonus! | VISA, Bitcoin | |
| | | 50% Up To $1,000 | Bitcoin, Wire Xfer, VISA | |
| | | 100% Up To $300 | VISA, Bitcoin | |
| | | 50% Up To $520 | Western Union, VISA | |
| | | 100% Up To $500 | VISA, Bitcoin, Checks | |
FAQs About Betting On Notre Dame
Is Betting On College Football Online Legal?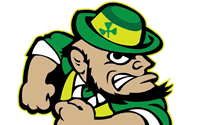 Using the internet to bet on Notre Dame, and indeed other college football teams, is now legal thanks to the passing of Indiana sports betting bill IN HB 1015. Online sports betting sites are still pending launch in the state. While you wait for them to do so, betting on Notre Dame is 100 percent legal provided you use our recommended offshore sportsbooks, which are licensed and regulated by their own home countries and, most importantly to this issue, operate outside the purview of federal and state laws. These extra steps bettors have to take to steer clear of troubles with the law haven't deterred the appetite for sports wagering among participants in the industry, with hundreds of billions bet on sports each year. The bottom line is you won't get into any trouble so long as you stick to legal offshore sports betting sites like Bovada, SportsBetting, BetOnline and 5Dimes or if you wait for Indiana to launch it's own sports wagering sites.
What's The Safest Way To Deposit Into A Notre Dame Sportsbook?
Today's sports betting industry is dominated by technological solutions to legal problems. That's because a few federal laws, namely the Unlawful Internet Gambling Enforcement Act of 2006 (which targets financial institutions that process gambling-related financial transactions over the internet), make it almost impossible to guarantee that many common credit cards will be accepted for deposits. Fortunately, the introduction of BitCoin, a so-called "cryptocurrency," has made speedy and secure deposits and withdrawals possible for fans of the Fighting Irish when using offshore online sportsbooks.
For state-regulated online sportsbooks, however, that will most likely be a different story. Bitcoin has yet to be used for any of these types of mobile sports wagering apps. Most state-regulated online betting sites take Visa and Mastercard deposits very easily but making withdrawals from these methods will still be difficult. If Indiana follows the same path as state's like New Jersey, the safest way to deposit money and receive money will be through methods such as PayPal.
Can I Signup At More Than One Online Sports Betting Site?
Sharp online sports bettors have known for a long time that one of the key practices needed in order to be successful over the long term is to open and keep multiple sportsbook accounts. There's nothing prohibiting you from keeping several active online sports betting accounts open, and we really can't recommend enough that you adopt the tactic as well. There are several compelling reasons for fans of the Fighting Irish to bet on Notre Dame at several different sportsbooks (Bovada, SportsBetting, BetOnline and 5Dimes, to name a few of the best).
Firstly, there are always going to be variations on betting lines available at each different sportsbook, so savvy bettors will quite naturally see the advantage of "hedging their bets" against an upset. Next, the different offshore sports betting sites all have unique comps and promotional bonuses for sign-ups, new deposits, and matches of varying percentages on winnings, so it's quite possible to fund substantial portions of your bankroll. Finally, it's a simple fact of business that bookies – even online ones – can't take too much of a beating for too long before they'll change your odds. If you spread out your wagering across several sports betting sites, you can lengthen out your winning streak before running up against revised and less favorable odds.
Do Online Sportsbooks Offer Odds On Every Notre Dame Game?
Football is no stranger to stacked schedules year in and year out, and this season is not going to be any different. Our recommended online sportsbooks offer odds on just about every Notre Dame game throughout the season, but there might, of course, be exceptions. The Fighting Irish are well-known for taking on some tough opponents, but they will face smaller schools from time-to-time, creating such mismatch that there really isn't much chance an oddsmaker could create a betting line profitable enough to balance it out. In those cases, even our recommended offshore legal sports betting sites won't have odds available for betting on Notre Dame. State-regulated sports betting sites may differ in this aspect once they are released.