Indiana Sports Betting Bill Tracker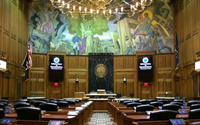 Of all the states discussing the potential regulation of sports betting, Indiana faced unique challenges. The state is the home of the National Collegiate Athletic Association, which has been a longstanding opponent of legalized sports betting. The NCAA is the league that initially filed suit against New Jersey for their attempts to pass sports gambling laws, though the Supreme Court ultimately ruled in favor of sports betting proponents. With the federal ban on sports betting no longer an issue, officials in the state eventually decided how to address the concerns of the NCAA and major sports leagues. The Hoosier State was the 10th state in the country to legalize sports wagering and one of the few that allows for statewide mobile sports betting.
In the months after PASPA being overturned, the state hosted several sports betting hearings to discuss the future of legal Indiana sports betting. Lawmakers proposed several bills and ordered multiple studies of what a regulated Indiana sports betting environment might look like before eventually deciding on IN HB 1015.
You can find all the bills that led to the historic decision in our Indiana sports betting bill tracker below:
Sponsor: Sen. Jon Ford
Summary: Authorizes sports wagering at racinos, riverboats, and satellite facilities provided the Indiana Gaming Commission has deemed current federal sports betting prohibitions are lifted. Interactive gaming permitted.
"The commission is authorized to approve sports wagering in Indiana not more than ninety (90) days after the commission determines that: (1) the federal statutes prohibiting sports wagering and the state regulation of sports wagering… have been repealed or amended… or (2) the United States Supreme Court has ruled that a federal
Actions:
01/08/2018:

First reading: referred to Committee on Public Policy
Sponsor: Rep. Alan Morrison
Summary: Authorizes sports wagering at riverboat casinos, racinos, and satellite facilities. Authorizes internet and mobile sports wagering. Includes an integrity fee of one percent of the amount wagered on the sports governing body's events.
Excerpt: "A sports wagering operator shall remit to a sports governing body that has provided notice to the commission under of this chapter an integrity fee of one percent (1%)"
Actions:
01/16/2018:

First reading: referred to Committee on Public Policy
Sponsor: Sens. Mark Messmer and Jon Ford
Summary: Racinos, Off-track betting sites, and Casinos could apply to have a sports betting license. They would also be able to partner with sportsbook operators to offer the activity both at their physical locations and through a mobile sports betting app.
Excerpt: "Authorizes sports wagering at riverboats, racinos, a Vigo County casino, and satellite facilities. Provides for the administration and conduct of sports wagering. Imposes initial and annual fees on a license downer, operating agent, vendor, or permit holder conducting sports wagering. Imposes initial and annual licensing fees on vendors conducting sports wagering."
Actions:
03/05/2019:

First reading: referred to Committee on Public Policy
Indiana Sports Betting FAQ's
What is the difference between IN SB 405 and IN HB 1325?
The Senate and House versions of the sports betting bill were quite similar. The main difference is that SB 405 did not include the controversial integrity fee that HB 1325 included. The integrity fee is a tax that would essentially give pro leagues a cut of sports wagering action. The American Gaming Association and other experts argued that the fee would have challenged the economic viability of legal Indiana sports betting. Leagues claim that the fee would have helped to fund additional resources that will maintain the integrity of their games. Senate Bill 405 also gave leagues the ability to limit wagering on certain events.
What Is The Legal Sports Betting Age In Indiana?
The legal Indiana sports betting age is 21-years-old according to the state law. This will be the required age for both retail and mobile sports wagering platforms. Even now, the residents that use online sportsbooks like Bovada must be at least 21 to join, otherwise, they risk forfeiting their winnings and possible banishment from the site.
Will The NCAA Get Onboard With Legal Indiana Sports Betting?
The National Collegiate Athletic Association has given no indication that they support legalized sports betting in Indiana, however, they may be forced to change their hand. Indiana sports betting laws allow those located in the state the ability to place wagers on both professional and collegiate sports teams that are based all across the country. Professional sports leagues have started to come around on the issue. This has already been seen with the NBA and NFL, as the two professional leagues have entered into casino-sportsbook partnerships in light of PASPA being overturned. More leagues are expected to follow in their footsteps in the future.
Best Indiana Sports Betting Sites - 100% Trusted + Safe
| | | | | |
| --- | --- | --- | --- | --- |
| | | 50% Up To $250 | VISA + Wire Transfer | |
| | | 50% Up To $1,000 | VISA, Bitcoin, Cash Wire | |
| | | 50% New Member Bonus! | VISA, Bitcoin | |
| | | 50% Up To $1,000 | Bitcoin, Wire Xfer, VISA | |
| | | 100% Up To $300 | VISA, Bitcoin | |
| | | 50% Up To $520 | Western Union, VISA | |
| | | 100% Up To $500 | VISA, Bitcoin, Checks | |