Hammond Sportsbooks
In Northern Indiana, on the shores of Lake Michigan, lies the city of Hammond. This city is home to a world-class riverboat casino, and because of this, may soon be one of the host cities to legal sports betting in Indiana. Hammond Sportsbooks are finally going to be a reality, and we have every reason to believe so since sports betting in Indiana is now legal and will be operational very soon.
Indiana is wide open to a world of possibilities, now that both retail and mobile sportsbooks were approved by state lawmakers. Hammond is home to the Horseshoe Casino which is one of the many establishments that can now apply for a license to offer sports betting. Given the fact that they are already one of the largest gaming venues in the state, it is only safe to assume that they will be home to the first sportsbook in Hammond.
We've included some handy information about legal sports gambling in Indiana on this page, like where you can access sportsbooks and how old you have to be to bet. We've even reviewed all legal sports betting avenues available to you so that you can decide for yourself which books are the best sportsbooks in Hammond. Once those sports betting venues go live we will be sure to update this page as well.
Best Indiana Sports Betting Sites - 100% Trusted + Safe
| | | | | |
| --- | --- | --- | --- | --- |
| | | 50% Up To $250 | VISA + Wire Transfer | |
| | | 50% Up To $1,000 | VISA, Bitcoin, Cash Wire | |
| | | 50% New Member Bonus! | VISA, Bitcoin | |
| | | 50% Up To $1,000 | Bitcoin, Wire Xfer, VISA | |
| | | 100% Up To $300 | VISA, Bitcoin | |
| | | 50% Up To $520 | Western Union, VISA | |
| | | 100% Up To $500 | VISA, Bitcoin, Checks | |
Is Sports Betting Currently Legal In Hammond?
As we said earlier, sports betting in Hammond is legal, it has just not launched quite yet. For sportsbooks in Hammond to open there will still need to be a few barriers to cross. The first of which being that any casino, racetrack, or off-track betting facility in the area that wants to host sports wagering will need to be approved by the Indiana Gaming Commission. A sportsbook application includes an initial fee of $100,000 for a vendor license and an agreement to pay $50,000 annually to keep the license. Gaming venues that are willing to pay this price to the Commission must also pay a tax rate of 9.5% of their sports betting revenue to the state. These requirements are more affordable than the fees set by other states that have legalized sports betting so we have reason to believe that Hammond will have no problem featuring a full-service sportsbook in the future.
Statewide mobile sports betting was also legalized in Indiana so it is only a matter of time before one becomes available either through a vendor from Hammond or another city. The measure did come with a few unanswered questions. While online casino gambling is not allowed in Indiana, online sports betting now is and many are wondering if online offshore sportsbooks are now on the table. They technically do not fall under the legal authority of any US state or federal government and will accept any resident from Hammond along with just about anyone else in the country. These sportsbooks were not explicitly mentioned in the bill that legalized sports betting in Indiana so many people now feel safe using those sites.
What Is The Legal Gambling Age In Indiana?
The legal gambling age in Indiana depends entirely on the type of gambling you're attempting to do. When it comes to betting at Hammond Sportsbooks, you're going to have to be at least 21 years old. This is both the legal gambling age at casinos in Indiana and also the legal sports betting age in the state. While some offshore sportsbooks will accept players as young as 18, we recommend that you wait till you are 21 or older when you want to try your hand with these sites. If you want to get in on the action and you're between the ages of 18-20, we recommend that you try Indiana horse racing betting as that is legal in the state and will allow residents as young as 18 to participate.
The Best Sportsbooks In Hammond
The best sportsbooks in Hammond Indiana are going to be opening at the Horseshoe Casino. They'll have plenty for you to wager on, from professional sports to collegiate events. Some states have chosen to prevent players from wagering on college teams that are based in the state or on collegiate events that take place in the state, but that is not the case in the Hoosier State. To add to that, online offshore sportsbooks that serve Indiana residents won't be held to these restrictions. This is just another reason why these types of sports betting websites just might be the best sportsbooks in Hammond even after land-based Hammond sportsbooks open for sports betting in Indiana. Below you'll find a review of the Horseshoe casino, the riverboat casino where sports betting is expected to be housed.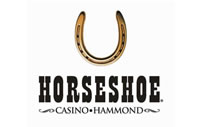 Hammond Sportsbooks at Horseshoe Casino

Address:

777 Casino Center Dr, Hammond, IN 46320

Phone:

711-SHOE/7463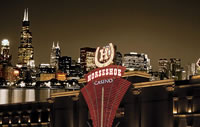 The Horseshoe Casino is home to one of the largest selections of gaming in Indiana. With over 1600 slot machines, 200 video poker terminals, and dozens of table games, your head will spin with all the gaming options available to you. You'll be able to choose between traditional reels, video reels, and progressive slot machines.
Get your heart rate going at any one of the dozens of live table games available to you throughout the several gaming floors. You've got blackjack, roulette, craps, baccarat and more. There are over 30 live poker tables for you to choose from as well, with Hi/Lo Omaha and limit and no limit Texas Hold'Em. There's even a high limit gaming room on Deck 4 that provides high rollers with all the thrills they're looking for.
When you need a break from all the amazing gaming offered at the Horseshoe Casino, head over to the hotel and relax in one of their luxurious guest suites. There are tons of restaurants to choose from, with live entertainment going on nearly every day of the week. The highly trained staff can get you into any venue you'd like, as well as help you sign up for the incredible rewards program at the Horseshoe Casino that enables you to earn free plays, discounts, and more.
With all of the current gaming options available, would it be any surprise if Hammond Sportsbooks that open here had just as many options for you? From a bevy of betting odds to the widest range of betting limits, you'll find everything you need here. The highly trained staff will help you find the wager type you're looking for and get your betting slip on the books in a timely fashion. You won't find any better books in Indiana than at the Horseshoe Casino.